You get to see things you didn't even
know they happened.
 It's perfect if you're camera shy or self-conscious.
Rise your hand if this fits you (I know it does to me!). It's totally natural to feel like this; so many of us we have our insecurities, and it can be challenging to think we're going to be photographed all day. However, that's where another key benefit of wedding photojournalism appears, as these photographers won't be asking you to pose, or repeat things, or look at the camera – their very goal is to capture moments while you're totally unaware they're doing so.
You capture the raw emotions.
There is nothing quite like a wedding when it comes to witnessing a huge range of emotions – it's one of the reasons why so many photographers are drawn to weddings in the first place, as capturing emotions is both so thrilling, and incredibly rewarding.
And, you know what? Obviously, these moments of raw emotion can't be displayed. They can't be re-created or set up; that's just not the way emotion work. So, if you want these to catch them, you need to hire someone and with the documentary really get them. It sounds simple, but it's not that easy; capturing emotion is an art – just as reportage wedding photography as a single whole is an art.
For someone
 it should start celebrating the day before, 
and some of them can do it very seriously! SO, you can be more adventurous with this one.
Is it a MUST HAVE? 
If you have decided to organize something very special
We think so!
The bride and groom
are obviously the most important characters at a wedding – and will obviously be in most of the photos – but they can't be everywhere at once, and a good documentary wedding photographer knows that, he doesn't know just that, but he's totally aware that there are hardly any occasion in life where the closest people to you as family and friends regathered together in one place.
So, they will capture the moment your Aunt has a little doze after drinking one too many glasses of champagne; the time your friend from uni splits his trousers on the dancefloor; the moment your nephew decides picking his nose during the ceremony is a much more interesting use of his time….some of which – or all of which – you didn't even witness yourself on the wedding day. You can literally look at your wedding images, and see things you didn't even know had taken place. Pretty magical, I think.
We speak Italian, English, Spanish, French.
we achieve documentaries in mixed languages with subtitles.
---
There won't be any shouty/bossy photographer around, running/ruining your day; we will be unobtrusive, and often get mistaken for guests.
And that's a very good thing! Yes, a lot of documentary wedding photographers get asked 'how do you know the couple, then?', as guests think that the photographers are actually guests – and this is because the photographer hasn't been controlling the day, barking orders, or telling people what to do, but rather blending in with the crowd, almost-invisibly capturing moments without anyone noticing.
---
We have been making wedding films since 2006
You can relax and just enjoy your wedding day.
There are so many things to be thinking about on your wedding; we don't want photography to be one of them. When you hire someone who excels at documentary wedding photography, you can relax and just enjoy your day, safe in the knowledge that all those important moments are being captured. And though some photographers may still take you away for a few portraits (if you want that, of course) or group shots (again, only if you want them), they won't be taking you away from your guests for hours, like traditional photographers sometimes do.
It's your wedding, not a photoshoot, so just go about having the time of your lives, rather than posing in front of a camera all day.
---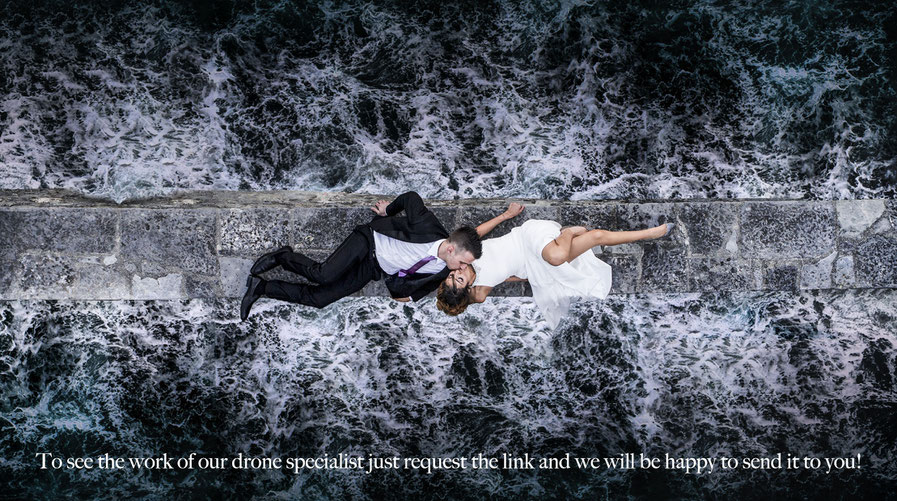 If you're considering having drone wedding photography on your big day, take a look at our excellent drone specialist work! 
Drones can be a fantastic option to consider when you choose your wedding videography and photography, as they can be used in a variety of ways. They can capture key moments of the day – such as videoing a special moment between the bride and groom or perhaps photographing a big group of guests from above. 
Today's drones can capture truly spectacular aerial wedding photographs that you'll want to treasure forever.
---